Alpharetta Outdoor Living Design and Build Services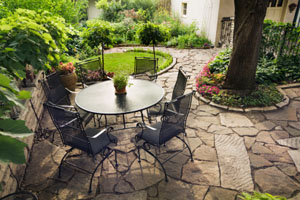 Designing the perfect outdoor living space is a major part of creating a fully realized home here in Alpharetta. One of the best things about the area is that we have mild weather almost year-round, and there's no shortage of great days and beautiful night for us to enjoy outdoors. A great outdoor living design can make your home the perfect place to enjoy this time, extending your home's design into the landscape and making the natural environment accessible at any time.
Our professional Alpharetta outdoor living design-build team will work with you design an outdoor living space that will fit perfectly with the design of your home and the lifestyle of your family. Whether you're just looking to build a patio or you'd like to build an extensive, completely new outdoor area with multiple functions and features, our professionals at Rivers Outdoor Living will be ready and eager to tackle the job.
Our Guarantee
When you hire us for an outdoor living project, you can count on quality construction, professional customer service, and your complete satisfaction with the work that we provide.
We work directly with each of our clients to design the projects for their Alpharetta area homes, making sure that we're providing them with everything they need from our services from the start. We'll offer you our professional advice and opinions, but we'll always leave the final decisions up to you. After all, we may an expert design-build team, but you're the only expert when it comes to your home.
Call our Alpharetta outdoor living design-build experts today to start your project, and we'll be looking forward to working with you.
Outdoor Living Design Options
There is a huge range of solutions for outdoor living designs. Some things you may want to add to your design include:
Screened-In Outdoor Rooms
Arbors
Decks
Sleeping porches
Lawn Area Games
Fountains
Rooftop lounges
Outdoor Fireplaces
No matter what you're looking to include in the design, it's very important that there is a strong connection between this design and the current design of your Alpharetta home, both inside and out. There should be a natural, intuitive, seamless flow from indoors to out—and that's why our professionals here.
We'll help you create a design that is a natural extension and integral part of your home. You'll feel just as at home outdoors as you do indoors, and that's our guarantee.
Some Benefits of Design-Build Include:
Singular Responsibility
Save Time and Money
Reduces Administrative Burden
Early Knowledge of Construction Costs
Improved Risk Management
Quality Results
When you have one company handle the design and construction of your Alpharetta home's outdoor living project, you're guaranteed better results and a smoother process.
Recent Articles
3 GREAT TIPS FOR DESIGNING AN OUTDOOR KITCHEN
There's no better way to enjoy an evening at your Alpharetta home with friends or family than a great cook out. And nothing can make a great cook out like an outdoor kitchen. […]
TIPS FOR BUILDING OUTDOOR KITCHEN
There's no better way to get the most out of your home during the spring and summer months than with a backyard cookout. And if you're looking to step up your outdoor cooking game, there's no better way to do that than by building a new outdoor kitchen. […]
---
If you are looking for a outdoor design-build specialist in Alpharetta then please call 678-366-2021 or complete our online request form.