Alpharetta Outdoor Kitchen Services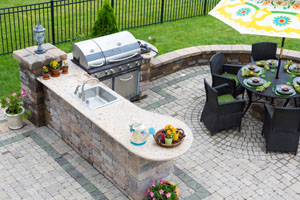 In Alpharetta, the weather is warm and pleasant almost year-round, and taking advantage of this great climate is important. There's not any better way to do that than to add an outdoor kitchen to your home. Outdoor kitchens are a fantastic way to turn any time you spend outdoors at home into a memorable and exceptionally enjoyable experience.
Whether you're looking to add a full service kitchen to your landscape or patio, complete with plumbing and gas lines, or you're just looking to put in a grill with some permanent counter space, the professional outdoor living designers at Rivers Outdoor Living can help. We'll make sure that you're taking full advantage of your landscape, building you the most attractive, manageable, and inviting outdoor kitchen possible.
Outdoor Kitchen Design
Our professional Alpharetta outdoor kitchen contractors will design and build your outdoor kitchen from scratch. We'll discuss your goals for the project with you, determining how you'll use the kitchen most, and what you'll need from it once it's in use. We work directly with each of our clients throughout the design stage to ensure that they get everything they need from the services we provide.
We'll make sure that the new outdoor kitchen is custom designed to be an integral part of your Alpharetta home's aesthetic design. We can match bricks, pavement, and other materials of your architecture so that the new outdoor kitchen is a natural extension of your home. We'll make sure that the outdoor kitchen design work with your landscape's size, shape, and design so that there is a fluidity throughout the design of your home.
Your outdoor kitchen may include:
Grills
Stoves
Ovens
Freezers
Refrigerators
Custom Cabinets
Custom Countertops
Sinks
Patio and Seating
Overhead Pergolas
No matter what features you'd like to include as part of your Alpharetta outdoor kitchen, we can help you make sure that each part of it works together and is as comfortable, functional, and attractive as possible.
Outdoor Kitchen Construction and Installations
Designing and planning your outdoor kitchen project are two of the most crucial steps in making sure that it's successful, but you also don't want to have problems with the construction of the kitchen. So after our professionals work with you to design your perfect outdoor kitchen, we'll get to work on constructing the new space and making sure the work is completed promptly and professionally.
We can handle any installations of plumbing, gas lines, or electrical wiring that you may need for your Alpharetta home's new outdoor kitchen, and we'll make sure that every part of the new space is completely safe and totally functional. Our only goal is your complete satisfaction, and we'll do whatever it takes to achieve that.
Recent Articles
3 GREAT TIPS FOR DESIGNING AN OUTDOOR KITCHEN
There's no better way to enjoy an evening at your Alpharetta home with friends or family than a great cook out. And nothing can make a great cook out like an outdoor kitchen. […]
TIPS FOR BUILDING OUTDOOR KITCHEN
There's no better way to get the most out of your home during the spring and summer months than with a backyard cookout. And if you're looking to step up your outdoor cooking game, there's no better way to do that than by building a new outdoor kitchen. […]
---
If you are looking for an outdoor kitchen specialist in Alpharetta then please call 678-366-2021 or complete our online request form.