Alpharetta Outdoor Lighting Professionals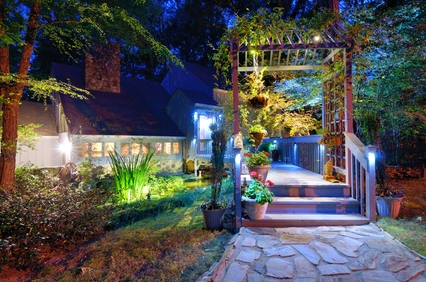 If you are looking for exterior lighting, call on the Alpharetta Outdoor Living professionals at Rivers Outdoor Living. You'll have many options in outdoor lighting to choose from for exterior property enhancement and safety.
With outdoor lighting installation, you are not only add good light to see by for the areas of your property you want to spend time in after dark, but you also have the opportunity to create new ambiance in your outdoor living spaces.
Do you have a swimming pool and want to enjoy it at night? Do you have a patio that you love to relax on after dark? Or do you entertain a lot and have some areas outside where you'd love to direct guests? Outdoor lighting will play an important role in the mood you set and the ability to use the space well at night.
Pole Lighting
Lantern Light Fixtures
Party Lights
Mood Lighting
Art Piece Highlighting
Water Feature Highlighting
Security Lights
Dusk To Dawn Lights
Pathway Lighting
Garden Lighting
Swimming Pool Lighting
Energy Efficient Exterior Lighting
No longer do you have to deal with high electric bills when you want to light up portions of your Alpharetta home exterior. There are fantastic options today, all in low voltage lights that give off just as much light as the old style lights do. And today, you have great options in beautiful light fixtures that house these types of lights.
Ensuring you choose energy efficient exterior lighting is the right option if you don't want to have to worry about leaving lights on. Plus, with the colors in low voltage lighting available today, you'll have no problem creating just the right type of atmosphere.
Security Lighting For Alpharetta
You'll want to be sure your Alpharetta landscape is covered with options in security lighting. Generally, security lighting can refer to any type of light that illuminates after dark. They are mostly thought of to be flood lights, motion sensor lights, or dusk to dawn lights, but even a lantern light fixture placed on a pole could be all you need for safety in certain areas.
A combination of outdoor lighting types is common for homes in Alpharetta and other areas. Depending on how much illumination you want in a specific area, the plan can be flexible with outdoor security lighting.
With Rivers Outdoor Living, You Have Lighting Options
Having options is always important. With outdoor lighting, you'll have beautiful light fixtures to choose from. And with the right design and build contractor, the project will be just what you need to improve your home.
With Rivers Outdoor Living, your Alpharetta lighting will enhance your exterior just as you need it to and make the space more functional. Call today for your free quote to see why so many others in the area love us!
Recent Articles
3 GREAT TIPS FOR DESIGNING AN OUTDOOR KITCHEN
There's no better way to enjoy an evening at your Alpharetta home with friends or family than a great cook out. And nothing can make a great cook out like an outdoor kitchen. […]
TIPS FOR BUILDING OUTDOOR KITCHEN
There's no better way to get the most out of your home during the spring and summer months than with a backyard cookout. And if you're looking to step up your outdoor cooking game, there's no better way to do that than by building a new outdoor kitchen. […]
---
If you are looking for an outdoor pizza oven design and build specialist in Alpharetta, please call 678-366-2021 or complete our online request form.