Buford Outdoor Kitchens and Living Areas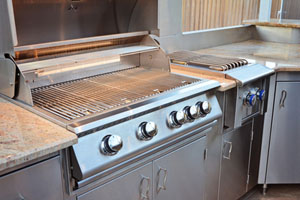 At Rivers Outdoor Living, we understand how important your home is to the lives of you and your family, which is we strive to provide our clients with services that improve their homes markedly. Our outdoor kitchens and other living spaces will improve the appearance of your home and your landscape, make your home more enjoyable, and increase your property's resale value significantly. Our Buford outdoor kitchen professionals will custom design and build these new additions based on your home's appearance, your lifestyle, and your home budget and timeframe, and we guarantee your satisfaction with all of our work.
All of our Buford outdoor kitchen contractors are licensed professionals with extensive training and experience, and we've worked on a vast number of different landscaping and remodeling projects throughout Buford and the surrounding areas. We work with each of our clients directly to custom design their new outdoor living spaces, ensuring that they're perfect for their homes and their families. And at every job, we always provide high quality workmanship and the highest quality materials.
Give us a call today to ask any questions you have about the services we provide, or to schedule an appointment for a consultation, and we'll be looking forward to working with you.
Outdoor Kitchen Design and Build in Buford
There's no more popular home improvement project than remodeling your kitchen, and it's easy to see why. Kitchens are the most frequently used part of the home, so remodeling them will make your entire home look and feel more comfortable, and it will immediately increase your property value. Adding an outdoor kitchen to your Buford home can have the same effects, and they may be even more significant.
When you've decided to add an outdoor kitchen to your Buford home, our professional design-build team will be able to handle every aspect of the job from start to finish. We'll work with you to design the new area, making sure that you're getting all of the features that you need and want. entire home more comfortable, attractive, and enjoyable.
Outdoor kitchens could be as simple as a grill and come counterspace on a patio, or they can be complex projects that include hardscaping elements, pergolas, refrigeration, plumbing, and more. No matter how large or small your outdoor kitchen in, we'll be ready and eager to take on the project.
Buford Deck Enclosures
Whether you just need a classic deck enclosure or you're creating a sunroom or enclosed pool, our professionals are here to help. We'll discuss your goals for the project with you, then we'll design and build your deck or patio enclosure based on those specifications.
Our deck enclosures are guaranteed to make your home more comfortable, attractive, and enjoyable. They'll be a perfect place to host any sort of get-together, and we'll make sure they're beautifully designed and constructed.
Custom Outdoor Living Design & Build Services in Buford, GA
If you are looking for an outdoor kitchen specialist in Buford then please call 678-366-2021 or complete our online request form.