Alpharetta Outdoor Water Features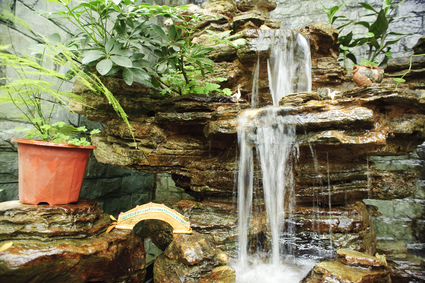 Whether you are into whimsical design elements, classic, roman inspired, traditional, contemporary, or rustic, water features offer you a unique way to enhance your Alpharetta outdoor living areas.
Do you prefer angels or would you much rather have a European style water feature depicting a maiden with a harp? Or perhaps you want a rustic water feature that blends more into the landscape?
Whatever you choose will express your unique tastes and will make your outdoor living space your own.
There's more to having a great water feature for your Alpharetta home though, it also enhances the look and feel of the landscape or outdoor living areas. One great thing about water features is the variance in sizes and types. Smaller water features like a water fountain statue can be installed just about anywhere.
Do you love whimsy? Why not get some cute garden gnomes that do more than sit there? You can pair these with a larger umbrella fountains for a cool garden scene.
Or, if you prefer something more contemporary or classic, bring out the architecture in your home with a wall fountain made specifically for you.
Types of water features you may want:
Wall fountains
Ponds
Garden Fountain
Waterfall Fountain
Pondless Waterfall
Bubble Fountain
Urn Fountains
Natural Slate Falls
Rocks & Water Fountain
Ceramic Fountain
Concrete Fountain
Marble Fountain
Cascading Water Feature
Stainless Steel Fountain
Rustic Stream
Boulder Fountain
Terrace Fountain
Relaxing Sounds From Water Features
Imaging lying comfortably by a bubbling brook, listening to the quiet sounds in nature. Water features can add this element to your own outdoor living areas to bring in a relaxing element while you spend time outside. Whether it's a bubbling water feature or a wall water fall, the sounds of water may be just what you need.
Water Features Reflect Light & Sky
Water reflects light, which can add a beautiful element to the aesthetics either during the day or at night. The sparkling and the soft sounds of the water feature combine to create a relaxing, beautiful outdoor atmosphere.
Water Features Can Be Focused Art Pieces
When looking at a space, whether indoors or out, your eye wants to settle on something. A water feature can give your eye something to look at.
Whether large or small, the water feature placed in the right spot can bring the outdoor area to a higher new level. Do you want to draw attention to a particular tree or plant grouping? Do you need to enhance the aesthetics of your siding? Or do you want to highlight an area near the swimming pool?
All types of water features can be used together for these key areas of your landscape for a decorative focus. Rivers Outdoor Living would love to help you create a stunning, relaxing, and beautiful space for you to enjoy. Call today for a free estimate.
Recent Articles
4 Design Ideas for Your Outdoor Kitchen
If you prefer to prepare and eat your meals at home, then investing in your cooking space is important. Many homeowners are aware of their limited food preparation space, but hiring an outdoor kitchens contractor […] […]
4 Top Benefits of Landscape Lighting for Your Alpharetta Home
Few people realize the benefits that landscape lighting provides until they have it added to their own home. Simply put, it is something that you should consider adding to your place. […]
---
If you are looking for an outdoor water feature design and build specialist in Alpharetta, please call 678-366-2021 or complete our online request form.