Alpharetta Firepits Design & Build Services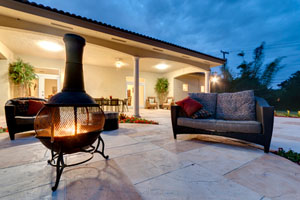 There's nothing quite like the scent of a wood-burning fireplace or its glow, and even on mildly chilly nights in the Alpharetta area, an outdoor fire pit is a great addition to any kind of gathering. Our outdoor living space designers and builders can help you create the perfect outdoor fireplace for your landscape, patio, or deck. We'll make sure that this new addition is aesthetically pleasing and completely safe, and we can guarantee that it will enhance the atmosphere of any night or gathering.
When you depend on the professionals at Rivers Outdoor Living, we'll work with you directly from the initial design through to the completion of the construction. Our Alpharetta Firepit design professionals have the experience and expertise to design and construct the perfect fire pit for your home, and we guarantee your complete satisfaction with all of the work that we provide. Our contractors are all professionally trained, and no matter small or large the job is, we'll always be ready to provide you with high quality workmanship and professional customer service.
Our Fire Pit Design Process
When we begin working with you on this or any other project, we'll help you decide on the design and the layout of the fire pit. We can match your existing patio pavement, or we can help you come up with something entirely new, but we'll always make sure the design matches and works with the design of your home and landscape. Our only goal is complete customer satisfaction, and we'll do whatever it takes to achieve that.
An Alphareta fire pit is an excellent way to enhance the appearance of your yard or landscape. Whether the design includes newly laid bricks that lead up to the fire pit or it's being built as a standalone structure, we'll be able to take care of the job. You, your family, and your friends will have hours and hours of enjoyable time out by the fire during any weather.
We can also install a fire pit as part of a larger project that you're planning for your home. With the help of our professional outdoor living space designers and builder, you can have the outdoor space of your dreams. From the very beginning of the project to the its completion, we'll be there to lay every brick and block of wood, guaranteeing the best possible final product for your Alpharetta home.
Our Guarantee
When it comes to a fireplace, you need to be sure that nothing will go awry. Our professionals will be able to build a fire pit that you can enjoy without worry. We can make sure that everything is safe and up to local codes, standards, and regulations.
Recent Articles
4 Design Ideas for Your Outdoor Kitchen
If you prefer to prepare and eat your meals at home, then investing in your cooking space is important. Many homeowners are aware of their limited food preparation space, but hiring an outdoor kitchens contractor […] […]
4 Top Benefits of Landscape Lighting for Your Alpharetta Home
Few people realize the benefits that landscape lighting provides until they have it added to their own home. Simply put, it is something that you should consider adding to your place. […]
---
If you are looking for a firepit design specialist in Alpharetta then please call 678-366-2021 or complete our online request form.