Alpharetta Patio and Deck Enclosures Services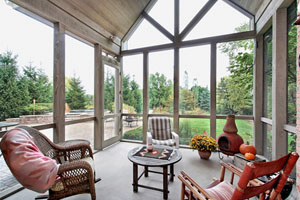 At Rivers Outdoor Living, we know what an important part of your life your home is, which is why we take great pride in helping you get more enjoyment and more comfort from your Alpharetta home. A patio or deck enclosure in Alpharetta is one of the best ways to take advantage of the features that are already a part of your home to help you create a new, comfortable, attractive space that will enhance your home's atmosphere and increase its resale value.
Our professional outdoor kitchen and living space designers can work with you to create a patio or deck enclosure that is perfect for your home and your family. We have several years of experience working in the landscaping and remodeling industries, and our high quality outdoor living spaces are a reflection of that. We'll work with you throughout every step of the project, and we'll guarantee your complete satisfaction with all of the work we provide.
Some of the Patio and Deck Enclosures We Provide Include:
Classic Patio Covers
Screen Rooms
Spa Enclosures
Carport Enclosures
Railing Systems
Pool Enclosures
Glass Rooms/Sun Rooms
Pergola Covers
Cathedral Patio Covers
Enclosed Patio, Screen Rooms, and Sunrooms Custom Design and Build
At every job, we provide our clients with the highest quality workmanship and most professional customer service possible, working directly with each of our clients to design every project that we work on. Our design-build team is able to create nearly any outdoor living space you might need for your home, and we'll make sure that it's the perfect addition to your particular home.
If you'd like to have a custom designed and built patio or deck enclosure for your Alpharetta home, you can depend on Alpharetta pation & deck enclosure professionals at Rivers Outdoor Living. We'll work with you to determine the specific qualities you're looking for, then we'll design and construct the new enclosures so that they're perfect for your home and your family.
These structures are built to last, so they won't end up in a landfill, and they will provide you with years and years of satisfaction and enjoyment.
Benefits of Patio Enclosures
An enclosed patio can be a fantastic asset to homeowners in Alpharetta. Here are some of the benefits they'll give to your home:
Patio enclosures can feature a wide array of different windows and other walls that can be set up in a short amount of time.
The enclosure will section off your patio area and make it easier for people to enjoy their time in the space.
Like any investment, there will be an upfront cost associated with these patio enclosures, but they'll increase your home's resale value immediately.
Recent Articles
4 Design Ideas for Your Outdoor Kitchen
If you prefer to prepare and eat your meals at home, then investing in your cooking space is important. Many homeowners are aware of their limited food preparation space, but hiring an outdoor kitchens contractor […] […]
4 Top Benefits of Landscape Lighting for Your Alpharetta Home
Few people realize the benefits that landscape lighting provides until they have it added to their own home. Simply put, it is something that you should consider adding to your place. […]
---
If you are looking for a pation & deck enclosure specialist in Alpharetta then please call 678-366-2021 or complete our online request form.