Gainesville Outdoor Kitchens and Living Areas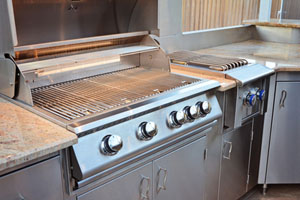 At Rivers Outdoor Living, our mission is to improve the homes of our clients by designing and constructing excellent outdoor kitchen and other living areas. These outdoor living areas can make your home more attractive, increase its resale value, and make it more enjoyable for you and your family, so they're a great addition to any home. Our Gainesville outdoor kitchen professionals will work with you to custom design these features, and we'll do whatever it takes to ensure that you're completely satisfied with the final product.
All of our Gainesville outdoor kitchen professionals are licensed, trained, and extensively experienced, and we've worked on many different kinds of homes and projects throughout the Gainesville area. We work directly with every one of our clients to design their projects, ensuring that their new outdoor kitchens and other living areas are perfect for their homes, their families, and their lifestyle. We understand that your home is an extremely important part of your life, so when you hire us, we take our responsibilities very seriously.
Give us a call today with any questions you have about the services we provide, or to schedule your appointment, and we'll be looking forward to working with you.
Outdoor Kitchen Design and Build in Gainesvilles
Remodeling or renovating a kitchen is one of the most popular home improvement projects to have done. Remodeling your kitchen can make your entire home more comfortable and enjoyable, and it will almost definitely significantly increase your property's value. Adding a new outdoor kitchen to your home can give you the same benefits, and they may even be more beneficial to you and your home.
If you're interested in adding an outdoor kitchen to your Gainesville area home, our professionals can handle the job from start to finish, no matter how large or small the project is. We'll discuss which features you'd like to include in the design, then we'll come back to you with a design for your approval. Outdoor kitchens can be as simple as a permanent grill and some counter space, or they can be as complex as any indoor kitchen, complete with storage, plumbing, and gas.
No matter what kind of outdoor kitchen you'd like to create, we'll be ready and eager to help you create it.
Gainesville Deck Enclosures
Whether you're looking for a classic patio or deck enclosure, creating a sunroom, or enclosing a pool, the professionals at Rivers Outdoor Living can help. We'll discuss the project with you first and determine your precise goals for your deck enclosure, then we'll design it to your specifications.
Patio and deck enclosures can make your home more attractive, and they can make the outdoor parts of your Gainesville home more enjoyable. Plus, they can raise your home's resale value, and they'll be a great selling point if you ever decide to sell your home.
Custom Outdoor Living Design & Build Services in Gainesville, GA
If you are looking for an outdoor kitchen specialist in Gainesville then please call 678-366-2021 or complete our online request form.