Energy Efficient Alpharetta Security Lighting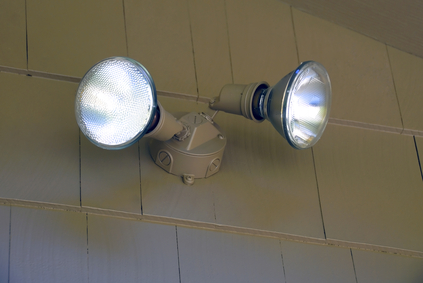 Today, you have many energy efficient Low Voltage lighting options, including in security lights.
Security lighting is normally planned into the features of an Alpharetta home before construction, but many properties just weren't planned well for security lighting. If your Alpharetta or surrounding area residential exterior isn't illuminated well, you're missing an important safety feature for your home.
Rivers Outdoor Living can help you take care of repairs or new installation of security lighting. Our Alpharetta Outdoor Living professionals offer many services to help customers improve their homes. We would love to help you as well.
Flood Lights
Fluorescent Exterior Lights
Halogen Lights
Motion Sensor Lights
Pole Lights
Dusk To Dawn Lights
Low Voltage Security Lights
Emergency Activation Lights
Spot Lights
HID Lighting
Dark places create areas of your property where human or animal predators can hide, but lighting up those areas will help keep your Alpharetta home visible. Whether your neighborhood is patrolled or you have neighbors passing by, having enough light can help spot problems before they happen.
Generally, you don't have to have any other type of lighting for security purposes, but it's a good idea to mix the types of lighting on the exterior because you don't need flood lights on every corner of a regular sized home.
Shielded Security Lights
A shielded security light that is directed downward will provide the vest vision for your outdoor lighting. This lighting is normally of medium intensity and is commonly seen on garages, roof overhangs or poles.
This type of security lighting helps to keep the light from affecting neighbors or being a nuisance elsewhere. Shielded lights are generally rectangular in shape and consist of one light while flood lighting is normally round and consists of two or more lights.
Motion Censor Lights
Motion censored flood lights are very similar and produce a wider range of light to the area. Lights that detect and recognize movement can be beneficial in keeping your property safe. With this technology, a criminal or animal may be surprised enough by the light switching on to move on out, leaving your property alone. Plus, every time they move the light will turn on and off which can deter them because they don't want to attract attention.
Spot Lights
Spot lights are normally installed on the ground and will highlight certain features that you want to stand out in the dark, such as a tree or other garden planting, statues, or water features.
Safety Lights
Sidewalk, walkway, stairway, and driveway lights can even be part of your security lighting plan. They help sidewalks to be illuminated in the dark so people can safely access your property.
Your security lighting can all be put on a system of automation if you prefer. There are timers and other technologies available from your local master electrician that will keep you from ever having to worry about turning on and off the security lights.
Recent Articles
4 Design Ideas for Your Outdoor Kitchen
If you prefer to prepare and eat your meals at home, then investing in your cooking space is important. Many homeowners are aware of their limited food preparation space, but hiring an outdoor kitchens contractor […] […]
4 Top Benefits of Landscape Lighting for Your Alpharetta Home
Few people realize the benefits that landscape lighting provides until they have it added to their own home. Simply put, it is something that you should consider adding to your place. […]
---
If you are interested in Security Lighting for your Alpharetta, GA area home, please call 678-366-2021 or complete our online request form.