Alpharetta Landscape Lighting Experts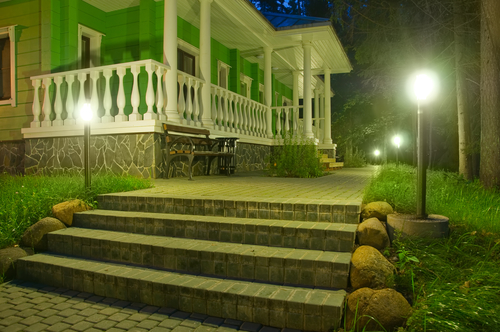 Alpharetta Landscape Lighting from the Alpharetta Outdoor Living professionals at Rivers Outdoor Living can play an important role in creating a beautiful landscape as well as adding security to your home.
Do you already have a well-manicured landscape with grouped plantings, hardscaping, or water features? Planning a good design for landscape lighting can set off your property's exterior to a higher level.
Perhaps you just need to ensure your landscape is illuminated well for security purposes. Most homes are planned with some exterior lighting, but additional landscape lighting can add security to your home.
There are many types of lighting options that can take a dark exterior to a beautifully illuminated landscape while ensuring that certain areas of the Alpharetta property is lighted up for security purposes after dark.
Pathway Lighting
Garden Lights
Landscape Security Lights
Swimming Pool Lighting
Low Voltage LED Lights
Party Lights
Stairway or Deck Lighting
Flood Lights
Spot Lights
Energy Efficient Landscape Lighting
It is said that landscape lights with efficient light bulbs are more cost effective because they use less energy. With today's technologies, you can find any number of lighting sources that are extremely effective at energy conservation.
Today, we can see our homes becoming "smart" as they are completely fitted with remote controlled or automated security lighting installed on new construction. We've come a long way already from the old bulbs that use a lot of energy to illuminate, and today it's only a matter of time before a new invention gives us even better options.
Low Voltage LED Lighting can now give you as much illumination as the old lighting types. Let our electricians at Rivers Outdoor Living talk to you about some great options in Alpharetta Energy Efficient Landscape Lighting.
Lighting For Enhanced Landscape Design
Do you have particular features in your landscape that need to be highlighted? Adding lights that show off these features takes a dull and boring exterior and transforms it into a stunning landscape. Let us show you how we can design new landscape lighting that turns your Alpharetta home into a stunning property.
Landscape Lighting For Security
Remember, when you need to add some security lighting, it's a great idea to enlist the help of a professional electrician prior to figuring out where you want to put them so that the lighting plan will not only be sufficient but will offer you beautiful landscape features.
Security lighting offers you not only a safer Alpharetta property, but also an enhanced landscape. You have many options in security lighting types, so let us help you choose and plan the design.
Landscape Lighting Repairs
Do you already have landscape lighting that needs repair? If so, it's important that a licensed electrician handle them. Rivers Outdoor Living offers repairs for your exterior lighting.
We can also replace fixtures or changed them out to a new type of light fixture. For any Alpharetta landscape lighting need, you can count on our expert electricians at Rivers Outdoor Living.
Recent Articles
4 Design Ideas for Your Outdoor Kitchen
If you prefer to prepare and eat your meals at home, then investing in your cooking space is important. Many homeowners are aware of their limited food preparation space, but hiring an outdoor kitchens contractor […] […]
4 Top Benefits of Landscape Lighting for Your Alpharetta Home
Few people realize the benefits that landscape lighting provides until they have it added to their own home. Simply put, it is something that you should consider adding to your place. […]
---
For expert Landscape Lighting Installation or Repairs for your Alpharetta, GA area home, please call 678-366-2021 or complete our online request form.