Your Experienced Outdoor Kitchen Specialists in Alpharetta
At Rivers Outdoor Living, we provide high quality design-build services for both outdoor and indoor living spaces. We specialize in building custom outdoor kitchens for our clients, and we can help you design and construct the perfect kitchen for your home, your landscape, and your family. Alpharetta outdoor kitchens are a great way to make your home and your landscape more attractive while also creating a brand new outdoor living space that will provide you and your family with years and years of enjoyment--plus, they can significantly raise your Alpharetta home's resale value.
Our professionals know how important your home is to you and your family, so no matter how large or small of a job you need done on your home, we'll always provide you with high quality materials and workmanship you can trust. We'll always do whatever it takes to make sure you're totally satisfied with the work that we provide.
Our design-build method means that we'll be able to handle any project from the very beginning stages through to the completion of the construction. We'll help you design the new space, then we'll work to get the job done promptly and professionally.
We've worked with many different kinds of homes, and on many different types of landscaping and remodeling projects throughout Alpharetta and the surrounding areas. So we'll always be ready and eager to tackle any job that you need.
Outdoor Kitchen Professionals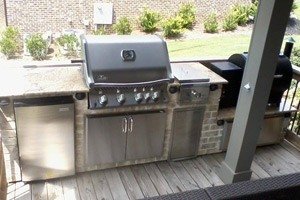 Outdoor kitchens might be as simple as a permanently installed grill with some counter space on a patio. Or, an outdoor kitchen could be a full service food prep area, complete with a stove, oven, refrigeration, and even gas and water lines. And when you're designing your outdoor kitchen specifically for your Alpharetta home, you'll know that it's going to be exactly what you need.
Our professionals will work with you directly to help you design the outdoor kitchen of your dreams. We'll give you our professional advice and opinions, but all of the final decisions will be left up to you. We understand that even though we may be outdoor kitchen experts, you're the only expert there is when it comes to your home.
Custom Outside Living Space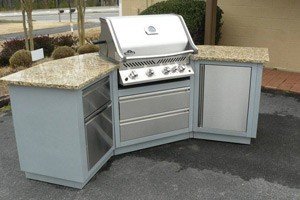 Whether you're looking to add a deck or patio to your Alpharetta home's lawn, or you'd like to build a brand-new, extensive outdoor living area with multiple features and functions, our professionals will be able to handle the entire job. You can rely on Rivers Outdoor Living for quality construction, professional customer service, and our 100% satisfaction guarantee.
From outdoor fireplaces to sleeping porches, deck enclosures to custom fire pits, our design-build team will be able to handle absolutely any outdoor living space you need for your home. All of our custom designed outdoor living space will make your home more comfortable, more attractive, and more enjoyable.
Why You Should Choose Us For Your Outdoor Kitchen Needs
Our founder, Mike Rivers, has been working in Alpharetta and the surrounding areas for over thirty years. He's worked in the landscaping and remodeling industry, and worked on several different kinds of homes throughout his career. His landscaping and remodeling career helped him become an outdoor kitchen specialist, and he's been providing that specialized work for over a decade.
Rivers Outdoor Living is one of the most trusted design-build professionals in the area. Our professionals have the knowledge and experience to help you create all sorts of outdoor living areas and make sure that they're functional, practical, attractive, and comfortable.
We know how important you home is to you and your family, so we don't take our responsibilities lightly. We'll always be totally ready to handle any job, and we guarantee your complete satisfaction with all of our work. Our goal is to make sure that your Alpharetta home is the best it can be, and we'll do whatever it takes to accomplish that.
Custom Outdoor Living Design & Build Services in Georgia
If you are looking for an outdoor kitchen specialist in Alpharetta then please call 678-366-2021 or complete our online request form.
Recent Articles
4 Design Ideas for Your Outdoor Kitchen
If you prefer to prepare and eat your meals at home, then investing in your cooking space is important. Many homeowners are aware of their limited food preparation space, but hiring an outdoor kitchens contractor […] […]
4 Top Benefits of Landscape Lighting for Your Alpharetta Home
Few people realize the benefits that landscape lighting provides until they have it added to their own home. Simply put, it is something that you should consider adding to your place. […]
---