Outdoor Pizza Ovens For Your Alpharetta Home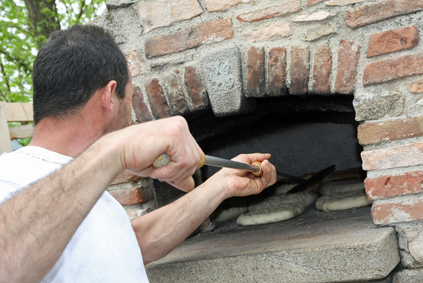 If you are planning an outdoor living space for your Alpharetta home, consider having a built in pizza oven constructed by Rivers Outdoor Living. Having a built in pizza oven will last longer than any appliance you can purchase from the store. And, it can be placed on top of the outdoor fireplace so you have two great entertainment options to choose from.
Building an outdoor pizza oven isn't complicated, but it does take the right plans and the right contractor to build it. The last thing you want is to burn your pizza with little control over temperature or have smoke constantly billowing all over your face and everything else.
With the proper construction, the pizza oven will be the highlight of your outdoor living space. You and the family or friends will enjoy it for many years to come.
Brick Pizza Oven
Stucco Pizza Oven
Rock Pizza Oven
Pizza Oven & Fireplace
Free
Standing Pizza Oven
Stand Alone Outdoor Pizza Ovens Offer Firewood Storage Space
There are many beautiful designs you can choose from when planning your Alpharetta outdoor pizza oven. Stand alone options can give you space underneath the oven to store firewood. Having a protected space on three sides will help keep your kindling and wood dry for easy use.
A stand alone pizza oven can be built to the side of the outdoor fireplace or can be free-standing with it's own base. Either way, the elements of nature are brought to the design when you choose a design and build contractor.
Design & Build Outdoor Pizza Ovens
A great pizza oven for your Alpharetta exterior living space doesn't just happen. The design has to be planned first, with all your unique desires and design aesthetics incorporated.
Having a design and build outdoor living space contractor on your side ensures you get exactly what you are looking for in your pizza oven and everything else.
Rivers Outdoor Living offers you design & build services when we work for you. We take care of the entire project from start to finish, beginning with the right design.
Spend a little time in your existing exterior environment and think about what you would like to see and enjoy in this outdoor living space. Would a great pizza oven fit nicely into the plan?
Whatever your dreams are, we can make it happen for you. We'll make sure your project is finished on budget and on time. Let us show you some ideas and make a plan for an outdoor pizza oven you'll love!
Recent Articles
4 Design Ideas for Your Outdoor Kitchen
If you prefer to prepare and eat your meals at home, then investing in your cooking space is important. Many homeowners are aware of their limited food preparation space, but hiring an outdoor kitchens contractor […] […]
4 Top Benefits of Landscape Lighting for Your Alpharetta Home
Few people realize the benefits that landscape lighting provides until they have it added to their own home. Simply put, it is something that you should consider adding to your place. […]
---
If you are looking for an outdoor pizza oven design and build specialist in Alpharetta, please call 678-366-2021 or complete our online request form.