3 Great Tips for Designing an Outdoor Kitchen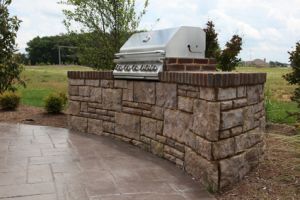 There's no better way to enjoy an evening at your Alpharetta home with friends or family than a great cook out. And nothing can make a great cook out like an outdoor kitchen. Outdoor kitchens are extremely convenient, and they'll allow you to upgrade the quality of all the food you prepare for the event.
On top of that, outdoor kitchens can be very comfortable and attractive, so they'll make your home a more enjoyable place, and our Alpharetta outdoor kitchen specialists can help you create the perfect outdoor living space for your home and your family.
There's no reason to run back and forth from the house when you can prepare all of your food right there on your deck. A great food prep surface, good lighting, and a little shelter can do the trick, and if you want to go all out, food storage, sinks, and appliances can make your outdoor kitchen great.
Here are a few other great ideas you can use when you're designing the perfect outdoor kitchen for your home:
Save Money With Your Design
Outdoor kitchens can be expensive to build, but if you plan carefully and get some creative design tips, you can get everything that you need from your Alpharetta home's new outdoor kitchen without overspending. Our professionals can help you find the perfect design for whatever budget you have available for this project.
You may save money by only including the amenities that you know you'll use. Hold off installing the refrigerator, perhaps, and start with a simple grill and counter space setup.
Starting with the bare essentials can help you keep the price of this project as low as possible.
Add a Pizza Oven
A wood-fire oven is a great addition to any outdoor kitchen in Alpharetta, and not just because of the great authentic Italian pizzas you'll be able to create with this piece of equipment. There's no limit to the things that you can cook in a great wood-fired brick oven.
Brick ovens can be an expensive option, however, so if you're not able to to splurge for it, you may want to look around for pizza stones that can be used on a grill. You can reach similarly high temperatures on your grill, and the stone will mimic the effects of a brick oven, making pizza nights a one-of-a-kind experience in your home.
Keep It Simple
Outdoor kitchens don't have to be extravagant, full-service kitchens. Depending on your particular needs, your Alpharetta home's new outdoor kitchen could be as simple as a cart with storage and a small prep area near a permanently installed grill. Add the amenities that you need, but don't feel pressure to go overboard with the project.
If you're looking for an outdoor kitchen design specialist in Alpharetta, call Rivers Outdoor Living at 678-366-2021 or complete our online request form.