Benefits Of A Finished Basement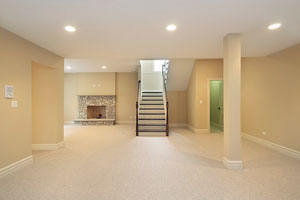 When it comes to being a Marietta homeowner, it can be easy to not get around to taking care of a big project like finishing the basement but what you should know is that you are only doing yourself a disservice. There are so many options to choose from when it comes to the type of room you can pick and transform your basement into, it makes no sense why you would opt to skip this project. Especially when you learn all the benefits you may be neglecting to notice.
Top 5 Reasons to Tackle This Project
So why exactly should you stop everything that you are doing and bump "basement remodeling" to the top of your to-do list?
Increase Your Property ValueObviously, the more rooms that you have completed in your home for something functional, aside from just storage, the higher your property value will be. So the money that you spend should be seen as more of an investment then anything.
Maximize DesirabilityEven if you are not planning on selling your home any time soon, at some point you are probably going to at least consider it. Homes with a finished and useable basement are much more appealing than those without; all potential buyers see for unfinished basement homes is yet another project to finish.
Offer Something MissingWho wants a basement that is good for nothing but storage, laundry and a damp and creepy place for spiders to inhabit? Especially when this room could become something you need or, even better, something that you have always wanted but never thought possible. A family game room, man cave, fitness center or even just a space for yoga or meditation, the possibilities are practically limitless.
Why Relocate?Maybe you have heard the saying "why relocate when you can renovate?" If you need more space or need a room that your home doesn't have, transforming your basement into this room can help prevent the need for you to move.
Create Family MemoriesToo many families lack a way to really bond and make everlasting memories. Aside from the kitchen, where families often meet up to chat about the day, or the living room, where everyone watches tv without saying a word, this is the ideal space to make as a game room or something similar so that you can connect with your family.
When you are ready to take the plunge and finally get your Marietta basement finished, you can count on Rivers Outdoor Living to get the job done. Let us show you how we have earned the impeccable reputation we have and provide you with the superior quality results that you want.
If you are looking for an outdoor kitchen specialist in Marietta then please call 678-366-2021 or complete our online request form.