Fire Pit or Fireplace – Which One is Right For You?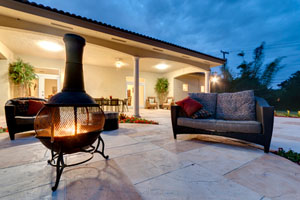 With each passing day, outdoor living areas become increasingly popular here in Alpharetta, as for the rest of the country, in fact. There are so many elements that you can implement into your outdoor living room, including a source of light and heat, that also offers natural beauty. Fire features are a fine way to take your exterior living space to the next level.
Of course, then the question becomes which type of fire feature do you want – fire pit or fireplace? The best approach to take, in order to make this type of decision, is to learn more about each one, as well as the pros and cons each offer. You can't make an informed decision without actually having the information that you need.
What You Need to Know
For starters, let's take into consideration that either a fireplace or a fire pit will offer a source of light and warmth. Not only that, both act as stunning visual focal points, as long as he work is carried out in the manner that it should be. Of course this, paired with a general outdoor living space, have also made it possible for families to start using their own backyard more. A fire feature just makes it possible to use it more of the year and well after the sun sets.
Generally, a fireplace can seat up to 6 people while a fire pit can seat as many as 12 people. Plus, since the seating situation for a fire pit is generally circular in design, this is ideal for promoting more social engagement. Although, keep in mind, fire pits do not have to be circular, they can be other designs, such as square. Plus, the seating is built into the design for a fire pit. When it comes to a fireplace, this requires adding additional seating options, like couches, chairs and even tables.
Both fireplaces and fire pits can be very pleasing to look at, although fireplaces are usually easier to make ornate for enhanced visual aesthetics. The only thing is that a fireplace can tend to block your view while a fire pit can leave a more open layout for an unobstructed view. However, having a fireplace can act as more of a barrier for privacy from neighbors.
Of the two options, fire pits are usually less expensive. So, those with a tighter budget for their outdoor living area space, may want to opt for the more cost-effective fire pit. For many homeowners, the design and budget is planned around some of the key features, such as a fire element. However, for many people, what is more important is having the outdoor kitchen in place, which can end up consuming the majority of the budget.
Getting Professional Help
The first smart first move to make is to select the company you want to work with, to take care of your project. That way, you can have a professional on your side to help you make the best decision, for your individual needs. At Rivers Outdoor Living, we do much more than just the skilled labor, we also offer essential consultation services.
We want you to love the final outcome of your project, which is about more than just our masterfully crafted outdoor fireplace or fire pit features. We want you to feel as though you have made the right choice, so we will help you better comprehend the pros and cons of each option you have. We take great pride in the work that we do, which is evident from the customer approval rating we have.
You can rest assured that you will be beyond satisfied with the final results that we are able to deliver, whether you ultimately decide to go with a fire pit or a fireplace. Our job is to help you determine which would be best for you and then create it, going above and beyond your expectations. Make it a point to contact us today, in order to get started on a key feature of your outdoor living space.
If you are looking for an outdoor kitchen specialist in Alpharetta then please call 678-366-2021 or complete our online request form.