How Careful Planning Can Save You Money on Your Kitchen Remodeling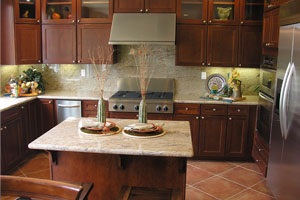 Kitchen remodeling is one of the most popular home improvement projects there is, but it can also be be extremely difficult to complete with full success. Kitchen remodeling jobs are never a cut-and-dry job, since there are always so many different materials and appliances to choose from. Still though, with careful planning, your Alpharetta kitchen remodeling project can go smoothly and be extremely successful.
Having a solid plan for the design and layout of your kitchen before any work begins can save you time, headaches, and money. Our professionals will work on the design of your kitchen remodel with you, but here are some tips for saving money with careful planning:
Know Your Space
The first step is investigating your kitchen and studying every aspect of its layout and design. Figure out which things work for you, and which things done, and decide on the specific parts of your Alpharetta home's kitchen that you'd like to change. Think about how the space could be used more efficiently and what the biggest problems you have with it are.
During this stage, it's also a good idea to take note of the size of your doorways. You won't want to end up coming home with a refrigerator you can't get into your kitchen!
Inspect the Kitchen
Before your kitchen remodeling project begins, it's very important that you check for mold, mildew, and leaks. For this step, you may need to hire a professional.
You'll need to be sure that every part of your Alpharetta home's kitchen is in perfect working order, from the lights to the electrical outlets, gas, and plumbing. Your electrical wiring and your plumbing need to be up to code and completely safe. A professional can provide this inspection for you, and you'll want to know of any problems before you start to work out your budget for the kitchen remodeling project.
Prioritize
Make a list of the things that you'll need to repair in your kitchen, then prioritize it. Separate the things that absolutely need to be done from the things that you'd simply like to have done. This can be a very helpful step when you begin working on your budget, and showing the list to your designer or contractor will help them anticipate the costs and lower the final costs of the job.
Get a Reliable Estimate
Most contractors will offer you a free estimate before you agree to hire them. To ensure that this estimate is accurate, you'll want to make sure that the contractor is a licensed professional with a good reputation. Also, compare the estimate you receive to an estimate from an online remodeling cost calculator.
Budget
Before any work begins or is even agreed upon, you'll want to work on your final budget, using estimates you've received as the basis. Shop around for any products or materials you plan to use, and try to use realistic pricing for everything. The budget won't be complete until you factor in labor, which is usually around ⅓ of the total cost of a remodeling project.
Plan for the Unexpected
You won't be able to predict everything, so you should always have backup plans ready. A good plan is a flexible one!
If you are looking for an kitchen remodeling services Alpharetta then please call 678-366-2021 or complete our online request form.