Tips for Building Outdoor Kitchen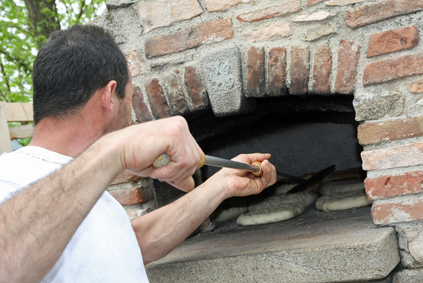 There's no better way to get the most out of your home during the spring and summer months than with a backyard cookout. And if you're looking to step up your outdoor cooking game, there's no better way to do that than by building a new outdoor kitchen.
Alpharetta outdoor kitchen can be as simple as a permanently installed grill and some counter space, or they can be as complex and extensive as your imagination will allow. No matter what kind of kitchen you'd like to add to your Alpharetta home's exterior, the professionals at Customer First Home Services can handle the project. And if you're not sure where to begin with the project, start with some of our best tips and ideas:
Include All of the Basics
As long as you include the basic elements of a functional kitchen, you won't need to run back and forth, inside and out, from your yard to your indoor kitchen to get the cooking done. Some of the staple you'll want to include in an outdoor kitchen design include:
Food-prep surfaces (these can be a custom-built countertop or just an all-weather table)
Lighting fixtures—you won't want the party to have to end at sundown
A pergola or umbrella to keep you sheltered from wind, rain, or the sun
If you want to go all out, a sink and other appliances can help you create an outdoor kitchen that rivals the one indoors
Above all, it's important to make sure that your Alpharetta home's outdoor kitchen is perfect for you and what you'll be using it for.
Keep it Simple
Outdoor kitchens don't need to be extravagant, full-service kitchens. In fact, they don't necessarily need to be anything more than a convenient space for you to cook outdoors.
Depending on what you need for your Alpharetta home, your new outdoor kitchen could be nothing more than a storage space, a small prep area, and a grill. This grilling station could be all that you need, and if that's the case, there's no need to go overboard.
Pizza Ovens
It's not easy to find someone who doesn't love pizza, and a wood-fired brick oven is one of the coolest pieces of equipment you can add to your outdoor kitchen. Any pizza lover will absolutely cherish the authentic Italian pies they'll be able to cook brilliantly in this oven—plus, there's no limit to other things you can cook in brick ovens.
Outdoor Dining
After you've prepared a meal in your outdoor kitchen, you'll need places for your family and guests to enjoy it. Our professionals can work with you to design and build outdoor dining tables, chairs, and more for your Alpharetta home so that you'll always be able to provide the best entertainment possible.
If you are looking for an outdoor kitchen specialist in Alpharetta then please call 678-366-2021 or complete our online request form.